Hi! This is Wanda - the mom part of the team! I am excited to share my first project with all of you out there in the blog world. So, here goes...

I've always liked the way plates look on a wall. So after months of living with a blank wall in my
guest room
, I headed out to my trusty Goodwill store and found the perfect plates. The most I paid for any plate was 79 cents.

Here is my "before" picture...


I wanted to paint my plates white and for some unknown reason, there is NO Rustoleum Heirloom White spray paint anywhere in my "neck of the woods" - so I settled for Rustoleum Porcelain. Well, I spray painted a couple of coats and was all excited about hanging my plates, when it occurred to me that I didn't have any plate hangers. Not wanting to get back in the car and drive another 30 minutes, I racked this old brain trying to figure out a way to get those plates on the wall. Then I remembered that I had some ring hooks that are used to put on the back of
picture frames
to hold wire to hang your picture.


Got those out, applied some good ole
Gorilla glue
, let them dry for about an hour, and hooray!!! It worked!!
Here is the "after"...

If you'll notice, two of the plates are pale blue. I had some paint called "Ocean Blue". Well, needless to say, it was hideous, so I just sprayed over it with a little Porcelain. Happy to say, I'm quite pleased with the color.


Now I know you're supposed to hang odd numbers - it just looks right. But in this case, because of the lamp being at the bottom of the plates, I think it turned out okay. Does that make any sense?

I'm happy with the way this turned out, and I've just hung some more plates in my dining room. I'll post that later!
Update! Linking up to the Gorilla Glue Party at Shanty 2 Chic!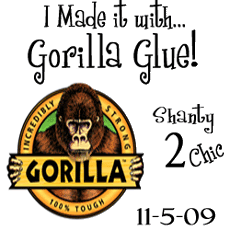 Check out Kimba's blog where we are participating in DIY Day!