So, one of my friends and I have started getting together on Wednesday mornings to craft and pretend we are Martha Stewart while our kids play together for a few hours. It's a win-win, because we are enjoying the playgroup time as much as the kids! Anyhow, this week we made a few framed Halloween decorations and we did it on a dime. Here are some pics of the final product and then I will give a super easy how-to and supplies list...it really doesn't get any easier than this, people...
How cute are these?! The templates for the witch and frankenstein are from the bhg website. Click
HERE
for the link.
The owl picture in the middle is from
The Graphics Fairy
- love that site! The additional image gives us a little color in the middle to brighten things up!
The frames are from the dollar store and the silhouettes were cut out on black construction paper we already had. The project calls for cardstock but we thought the paper turned out just fine!
All we had to do was print out the silhouette templates on cardstock, and trace onto our black paper...
Cut'em out carefully and stick to a piece of white cardstock, insert in the frames and you are good to go! The owl image was just printed out and put right in the frame. Brainless, I tell you! Cute, classy, and cheap Halloween decorations for anywhere in your house!
I decided to display mine on the bookcase in my kitchen...
Total cost for all three projects - around $4.00!
Stupid camera glare! I guess you don't really need to glass but you don't really notice the glare except for in the pictures...
Participating in...
Frugal Friday at The Shabby Nest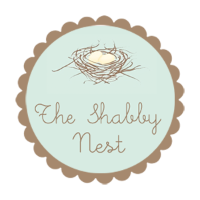 Thanks for stopping by!
Sara